150 Iranian Youth Gather to Change The Discourse
At a time of heightened tension between Iran and the United States, over 150 young Iranian-Americans have gathered in Los Angeles for IAAB's Summer Leadership Institute at Whittier College in Los Angeles. Iranian Alliances Across Borders (IAAB, www.iranianalliances.org), is the largest grassroots youth-led organization in the United States which focuses on the Iranian diaspora. With nearly one decade of experience organizing youth, IAAB's Leadership Institutes have been covered by CNN International, cnn.com, Washington Post, and PBS Frontline. The Summer Leadership Institute is in Los Angeles for the first time and we are excited to have the largest gathering of Iranian American student leaders across the country in LA, which has the largest population of Iranian-Americans outside of Iran.
The IAAB Summer Leadership Institute is increasingly important in light of recent attacks on ethnic studies programs in Arizona. The curriculum of the Institute is informed by an ethnic studies framework where the middle school and high school students are asked to situate their experiences as Iranian Americans in a broader historical context, generating dialogue with other immigrant and communities of color. Furthermore, given the rise of increased sanctions on Iran and the drumbeats of war, the specific theme of this year's leadership institute is media literacy. The students are asked to reflect upon the power of representation and the dangers of single-sided stories in the media. To that end, they are charged with the task of creating new frameworks of what a more nuanced representation of Iranians and Middle Easterners would look like in the media.
To see videos, photo essays, and read articles about this year's IAAB Summer Leadership Institute, please click here.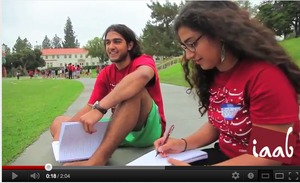 This year, the IAAB Summer Leadership Institute is being held at Whittier College through July 11, 2012. It is an entirely youth-led program and the students participating in this program come from over 25 states and from diverse socio-economic and political backgrounds.